The highlight of Kanie-cho
Kanie-cho is next to Nagoya-shi and is town blessed with about 20 minutes and traffic access by about ten minutes, car in JR, Kintetsu than Nagoya Station. River of six called the Nikko River, good large river, Fukuda River, Saya River, chef to the Emperor River drifts including Kanie River in town, and symbolize "town of Suigo"; is tasteful. River and life adhere, and scenery full of nature brought up with water spreads.
In addition, in the hot spring springing out in town, it is got close to many people in hot spring flowing constantly from the source which was chosen as 100 selections of excellent hot water. Public facilities "footbath kanieno village of free of charge using this hot spring is popular, too". Do you not make breath relievedly in Kanie-cho?
100, Kanie view
It is slightly slow and is slightly retro, and do you not look in slightly nostalgic scenery?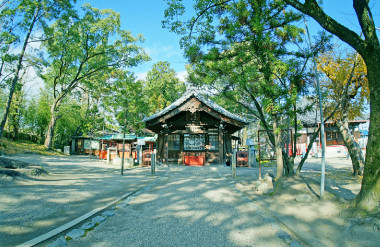 *kichidatesokushinsha, hachi*sha
Shinto shrine which becomes stage of Sunari festival. Main hall of both companies leaves architecture of the Muromachi era together, and is appointed to important cultural property of country.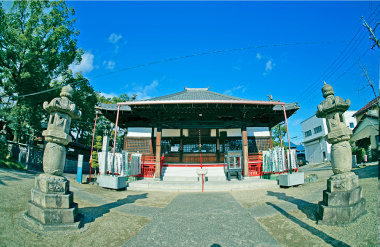 ryuteriin
(wooden Kannon with eleven faces statue)
Height 1m73cm, principal idol Kannon with eleven faces statue of kanikosanjogakujiryuteriin characterized by easy expression are appointed to important cultural property of country. We unveil 18th every month as Pub. Date.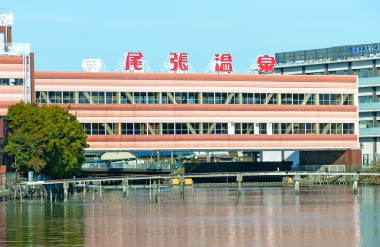 Owari hot spring
It is hot spring flowing constantly from the source chosen as 100 selections of Japanese excellent hot water which specialist in only balneotherapy recommends in Aichi. (from high hot spring of 53 degrees to low hot spring of 27 degrees, up to 500 can take a bath with quantity of water that I am amazed to learn of 1,250 liters a minute with fresh hot water proud of garden bath very much.)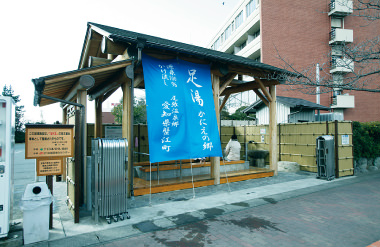 Footbath kanieno-go
It is free public footbathing that used the source from Owari hot spring. Footbath flowing constantly from the source becomes place of healing, contact.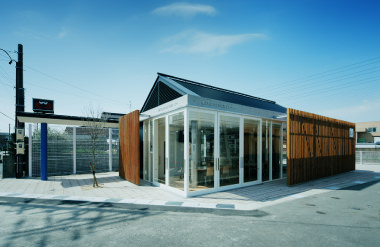 machinaka interchange center
"Station court musician of grass by the roadside"
It is facility as PR base of establishment and sightseeing, culture, industry of various courses. It is encounter, place of exchange that anyone can visit casually.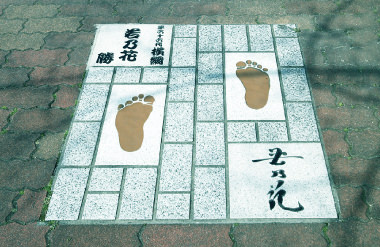 The Grand Sumo Tournament street
The 65th yokozuna Takanohana, last of 16 sumo wrestlers including the 68th yokozuna Asashoryu are installed and become unbearable spot to sumo fan.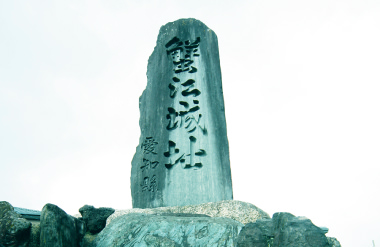 Kanie ruins of a castle park
Kanie-jo Castle constructed a castle in the Eikyo year by Hojo Tokito has collapsed by repeated battles and earthquakes. Main enclosure well and monument become left park now.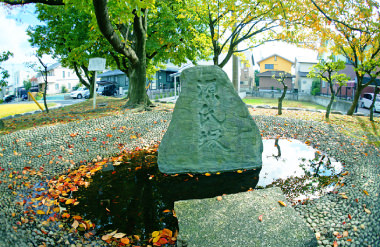 Genji mound park
We receive service of fishermen here while "Genji mound" being in garden, and justice morning of commander of defeated army and source where it was escaping to Utsumi, Chita alive in revolt of Heiji, and there is legend that we left for Utsumi, Chita.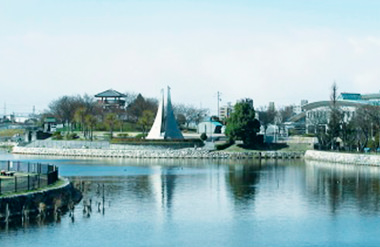 Saya River wound-go park
Valued water and contact with people; "is boiled the town of Suigo", and is no symbolic existence.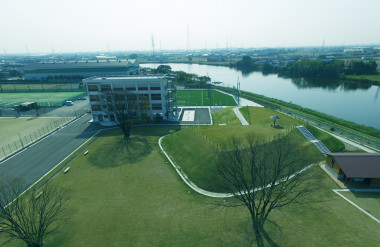 Desired hill open space
It is park of townsman rest that had lawn park, walk road, barbecue ground, futsal coat and hill where 500 people can evacuate to at the time of flood occurrence at one time.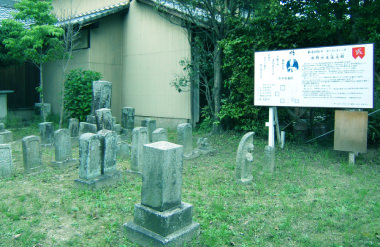 *yashichigosankorejohakasho
We were born in Owari country eastern sea county Sunari-mura in 1834 (Tenpo 5), and *yashichigosankorejo (sanoshimenosuke) which became member of a squad of Shinsengumi protested the shogun's retainer collection of all the members of Shinsengumi, and we planned, but we failed, and own blade did the secession from Shinsengumi with three friends in Kyoto Shugoshoku's house. The fierce last has been handed down in history. Age at death 34 years old.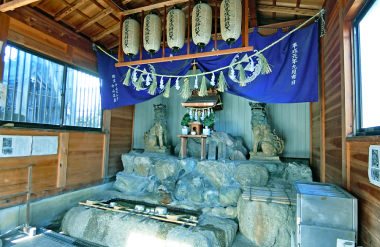 sensembichobenzaitenfukichishinsha
When happiness and prosperity is given in Tomiyoshi dragon Oga if we wash treasures in sensen ino pond of these precincts, enshrined deity is informed.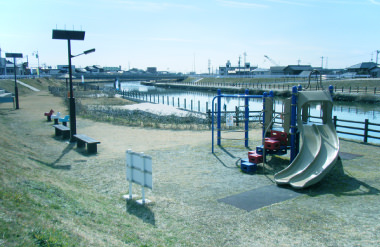 Waterside spot
This park maintained in waterside of Kanie River is blue flag garden, townsman oasis with playground equipment in garden.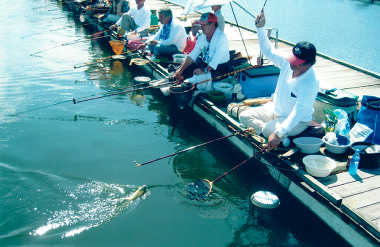 Spatula crusian carp fishing
Saya River is spot of famous spatula crusian carp fishing nationwide. Rich nature is left and is perfect fishing point that striped mullet and carp swim including representative spatula crusian carp.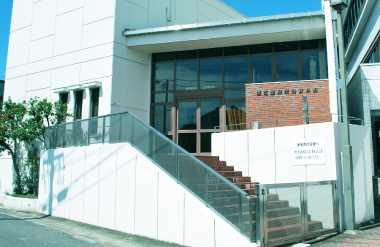 Kanie-cho Historical Museum
Other than display about history of Kanie and culture only in Suigo, there are Fuboku Kozakai material display and non-tree monument (Ranpo Edogawa brush), too.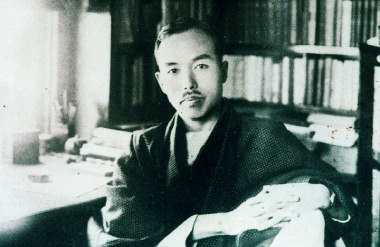 Fuboku Kozakai
Fuboku Kozakai who ran early in the Showa era from last years of Taisho era, and played an active part as detective novelist was born in house along the Nikko River of Kanieshinden-mura (existing Oaza, Kanie-cho Kanieshinden). There is the Fuboku Kozakai birth place monument (Kisho Kurokawa brush) to the west of Kanie-cho library.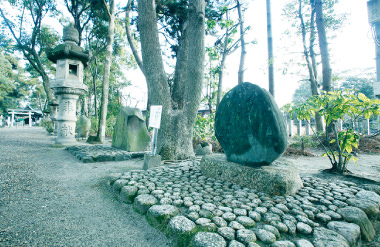 Kashima Shrine literature Land
Stone tablets of modern literature, haiku poet who read taste of yellowtail form a line in the precincts for 26 engines.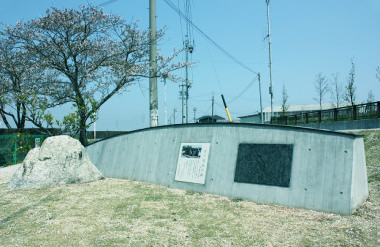 Eiji Yoshikawa stone tablet
Great writer Eiji Yoshikawa named Kanie "Itako of Tokai" and loved scenery of Saya River shore. "It rises and lends embankment of Saya River, and moon koyohi" and phrase that we wrote are carved with.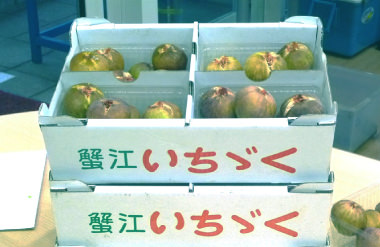 Fig made specially in Kanie
In Kanie-cho, there was harvest as we called freight train which went to the Nagoya area at excellent production center of fig in around 1939 of the golden age "fig train" from the old days. Horai persimmon (and others let you be) and Dauphin, each kind of white Xenoah are still cultivated.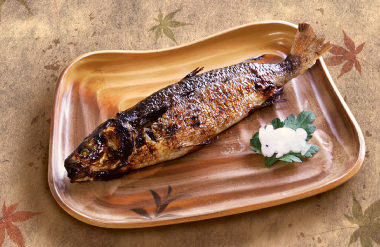 inamanju
Grilled fish that appearance is common. However, beans miso which we kneaded gingko nut and shiitake into is clogged up closely among them. It is local cuisine, noted product of Kanie who is full of flavors that fish was united with miso.
Introduction of Sunari festival
Sunari festival is performed to pray for epidemic breaking up and rich harvest summer as festival of *kichidatesokushinsha, hachi*sharyosha which is patron saint of Sunari district, and it is said that there is history for more than 400 years. While car comfort ship with doll plays musical accompaniment by festival in the morning, sheaved straw ship which first Saturday, "eve" performed on day on the next day touched lantern by eve by "morning festival" in August goes up Kanie river, and it will show elegant, fantastic scene to play a key role of festival. Entrust reed enshrined as object of worship of festival with accident, and, on the festival next day, drain into river in the morning; because "drain God reed" and is performed as ga solemn Shinto ritual, and event continues afterwards until October, another name is said to be "festival for 100 days".
Tradition had been continued following, and it was country-designated important intangible folk cultural properties in 2012, and such a series of events were registered with the UNESCO Intangible Cultural Heritage as one of 33 "mountains, pikes, stand events" to worship, and to be comprised in 2016 by being important festival in understanding summer festival of Japan.
About actor of Sunari festival
Actor of Sunari festival is elected newly basically every year. Such as next is constituted, and man serves all.
※ We can slide by horizontal scrolling.
Main festival actor
Official titles
The number of people
Main role
Festival three highest ranks
Accommodation general
One person
The president of festival
The festival representative
Two people
Young men
Cherry blossom
One person
Person in charge of the whole festival
Basically sanjo
Combine
Cherry blossoms next
One person
Vice-person in charge of the whole festival
Car general
Two people
Person in charge of ship Festival
sanjo
6 to 8 persons
We get on on the roof of festival ship
ashikari
Six principles
We are in charge of event about God reed Shinto ritual
Child taking part in a festive procession
Child taking part in a festive procession
Two people
Existence with it being said that it is better of God
Eggplant
Two people
We beat hand-drum (odo) of festival music
Drum
One person
We beat side drum of festival music
Comfort
One person
We beat large drum of festival music
Fuefuki
1 to 2 persons
We play flute of festival music
Event of Sunari festival
Sunari festival is said to be festival for 100 days, and it is said that the starting point is "child taking part in a festive procession fate" (chigosadame) that all festival actors are fixed at, but preparations for festival are pushed forward from front of it. Schedule and contents such as each event are as follows.
※ We can slide by horizontal scrolling.
Itinerary of main event
Schedule
Car comfort ship event
God reed sink
22 days before morning festival
Child taking part in a festive procession fate
14 days before morning festival
Entering accommodation
7 days before morning festival
Ship-involved (assembling of ship)
ashikari
Saturday first in August
(eve)
Purification ceremony
The Four Devas (tennou) give up, and three temples give up
Service of accommodation musical accompaniment, festival ship
The next day of Saturday first in August
(morning festival)
We do Yamaokoshi (we put mountain)
Service, the Four Devas musical accompaniment of festival ship
We work as Yamashita (we break mountain)
Morning festival one day later
God reed (see and do) sink
Morning festival seven days later
It is (tanaaga) ri in shelf
Morning festival 77 days later
We do under the store-eaves (we weave shelf)
The highlight of Sunari festival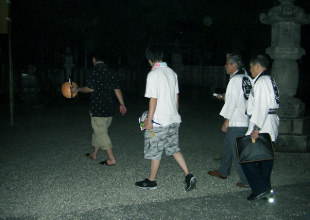 Child taking part in a festive procession fate (secrecy)
"Child taking part in a festive procession fate" is carried out in the morning at night of 22 days ago (Saturday three weeks before eve) of festival. Six children acting as actor people by this event are officially selected. Young men with lantern go to houses of candidate and ask at the door. Because if can get consent, become official decision, and all festival actors will be prepared in this, this event of "festival for 100 days" is started.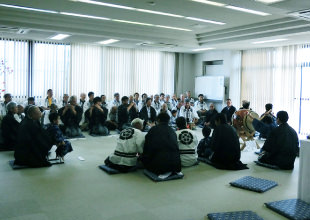 Entering accommodation
Event called "with accommodation" that various positions of Sunari festival enter accommodation for the first time in the morning two weeks before festival is performed. Accommodation of Sunari festival is established now in hall of Sunari public hall. Young men act as the part of progress in expression with accommodation, and actor people play festival music generally. When entering accommodation is over, preparations for festival get into full swing still more from this day.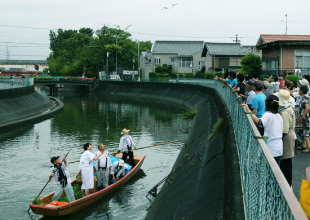 ashikari
Going "ashikari" is performed to cut reed becoming object of worship of festival in the morning one week of festival ago. In ashikari, we go down to the mouth of Kanie River on ashikarifune which young men of white clothing go ahead through with pole while throwing "chimaki". In late years we go to ashikarijo along the Nikko River after being welcomed by Funairi inhabitant of a ward at waterside spot close to the river mouth. We cut reed after performing Shinto ritual and come back to Sunari in the afternoon.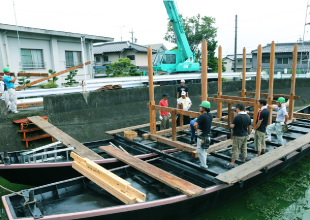 Ship-involved
On ashikari and the afternoon of the same day, assembly operation of festival ship is carried out. We displayed 2.6m in width, steel ships of 15m in length two parallel, and pleasure boat of nikaizo is assembled, and large stand, small stand are picked up on the roof. And it is almost completion when stand to play sheaved straw lantern of eve and the chief of the Religious Association of Natural Laws of about 15.5m in length are put up.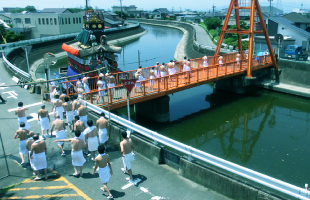 Purification ceremony
People in festival boat except child taking part in a festive procession take water and, prior to eve, cleanse the body. We made ablutions once in Kanie River, but we pass through water of temporary shower now and are performed. After taking water in front of accommodation, and going north across reed bridge, and praying for fine weather towards Tado big shrine when we open, and having visited in Shinto shrine, we come back to accommodation and are finished.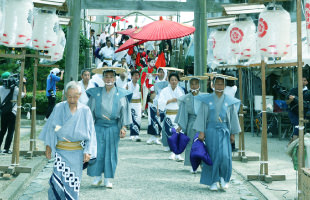 visit to Four Devas
"visit that all the people in festival boat visit Shinto shrine on the eve afternoon of the day to Four Devas" is carried out. We have flavor that reproduced historical picture scroll for line of actors who wore clothes. Line is reached in Shinto shrine in performance of medium drum and enters front shrine and is sent by medium drum after worship. Afterwards, "visit that child taking part in a festive procession goes to all temples in ward to temple" is carried out.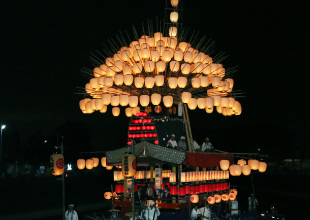 Eve
"Eve" is held on the first night of Saturday in August. At first, festival actor and others make line and go to decoration Bridge after playing "accommodation musical accompaniment" in festival accommodation and get in ship and go up Kanie river while playing musical accompaniment. Many lanterns are displayed in ship, but, as for the sheaved straw lantern formed by half sphere, it is said to lantern of the chief of the Religious Association of Natural Laws rising highly in the days of one year that there are the number of, small, round red lantern of the front in the days in January in month for one year. When reed bridge goes up to let festival ship go through, worshiping invites the climax. When ship arrives to Tenno Bridge, small, round red lantern and rice cake are given up by spectators, and eve becomes the end.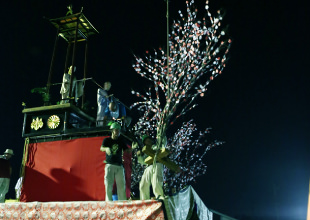 We raise mountain
When eve is over, "we do Yamaokoshi" in the middle of the night, and ga bank is broken. We exclude lantern stand of eve and rearrange stand and we enshrine doll and redecorate to car comfort ship of festival in the morning. It is said that it is Izanagi and Izanami, and young men who did purge are to carry doll enshrined to car comfort ship. When all Japanese apricot, the cherry blossoms are displayed on the roof, doing finishes Yamaokoshi.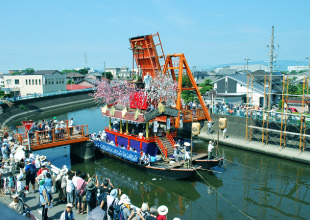 Morning festival
"Morning festival" is held on the next day of first Saturday in August. When actors leave for decoration bridge in front of festival accommodation, we get and we play musical accompaniment and leave. When ship arrives to Tenno Bridge via reed bridge, children taking part in a festive procession get off once and play one way of musical accompaniment in Shinto shrine front shrine. "The Four Devas musical accompaniment" means this. When the Four Devas musical accompaniment is over, throw out branch of Japanese apricot and cherry blossom which displayed on roof to spectators by ship; "throw, and flower" is performed. It is said that thunder that we are sick in the summer, and it is not assumed that head of a household comes back through flower does not fall and stretches out hand so that many people receive. Afterwards, children taking part in a festive procession go on board again, and some ships come back downstream, and festival is finished in the morning. "They work as Yamashita" in the afternoon, and gaari, car comfort ship are dismantled.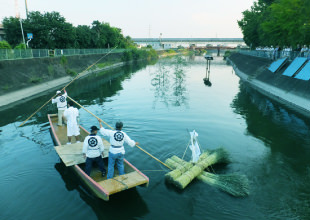 God reed sink
"It carries away God reed" early in the morning in the morning on the next day of festival, and ga bank is broken. God reed sink is event to wash away "God Yoshi" who confined all accidents to river. Young men carry bundle of God reeds enshrined in Shinto shrine on their shoulder and, after Shinto ritual, carry to Kanie river and drain into river after crossing on cross. We actually discharge and we raise when we drift and seemed to worship once, but are kept in river after letting you pull now in ashikarisen and go around the area.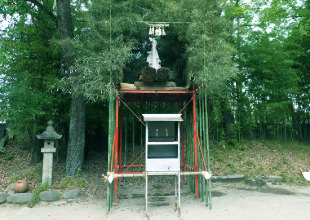 The shelf up
"The shelf up" to carry away God reed, and to worship God Yoshi in the increase Shinto shrine precincts from river on Sunday six days later is performed. Young men of white clothing raise God reed from river and they give to arranged shelf the day before in the precincts and when there was in river, they cross in the same state and worship. God reed Festival worshiping God Yoshi on shelf for 70 days from this day is performed, and local people visit by turns every day.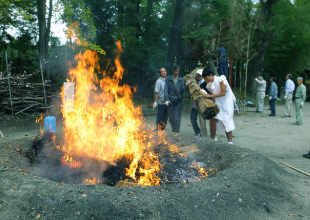 Shelf giving
In the end of October, "we do under the store-eaves" in the morning 77 days after festival, and ga bank is broken. When Shinto ritual of shelf giving is carried out in the morning, we are taken down by shelf, and God Yoshi who has been worshiped for 70 days is burnt in hole of the precincts by hand of young men. Event of all Sunari festivals will be finished in this way when we finish shelf giving.
Festival in Kanie-cho
From the end of September to season out of one of October, autumn festival is performed in each district in Kanie-cho.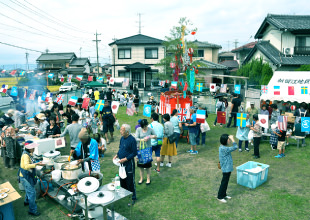 Autumn festival of Kanie
Originally, in Kanie where rice growing was prosperous, it is thought that festival came to be performed flourishingly at this time to pray in celebration of good harvest. Festivals to dedicate "noh dance" to be seen well in farm village part of the Owari district are often found, but there is festival of townsfolk such as Kanie festival where gorgeous way dance is characteristic. In addition, autumn festival of Nabebutashinden performed on first Sunday in October is festival affected by Kuwana feudal retainer festival alone in Kanie-cho.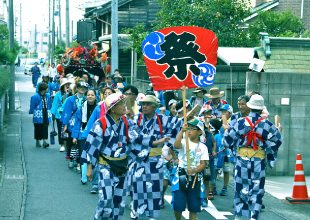 Kanie festival
Kanie festival is carried out on last Saturday and Sunday of September, and eight pleasure boats in total are provided by jokorecho, Kaminocho, kitakorecho, Nakanomachi, gokorecho, strait, Arayashiki, Kawanishi. We have Shinto ritual on the afternoon of Saturday, and each town gathers to Shinto shrine on the afternoon of Sunday, and dedication is performed sequentially, but pleasure boat goes round after dedication on Sunday in district on the afternoon of Saturday. There is announcement of "way dance" to musical accompaniment, and kitakorecho and strait will show gorgeous scene. Pleasure boat goes round on the same day while festival of the performed station square ward (JR) plays musical accompaniment with the system.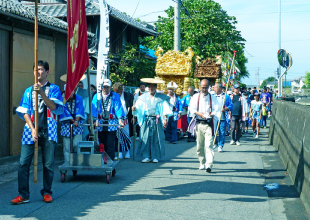 Kanieshinmachi Hiyoshi noh dance
Kanieshinmachi Hiyoshi enlarged rooms on the second floor are dedicated to autumn festival of Kanieshinmachi ward performed on last Saturday and Sunday of September. We stand in line in order of flag, tour conductor two, haori turn three, gold leaf noh dance pleasure boat, unvarnished wood noh dance pleasure boat, bamboo grass noh dance and, with large paper lantern hung on a pole in the lead, load large drum and drum with its heads attached to the cylinder with cords onto each pleasure boat and we let we swat drum with bamboo drumstick which is slim in total in performance of flute, and high tone sound and go round. State of such a cruise reports tradition and becomes town-designated intangible folk cultural properties.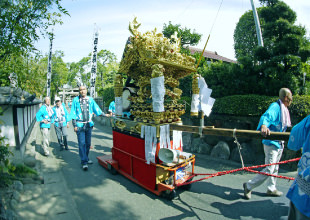 Noh dance
There are many festivals that pleasure boat called "noh dance" is over in area around Kanie-cho. Originally it seemed to be thing which we put humped-head goldfish in four pillars and carried, but it became gradually loud because we competed with neighborhood and it was decorated with sculpture and gold leaf and seemed to become luxurious. In Kanie-cho, it is dedicated cruise to Sunari Kawanishi, autumn festival of each district such as Tomiyoshi now for Honcho Kanieshinmachi in Health Sports Day on second Saturday and Sunday in Nishinomori, October for the Univ. of Tokyo Sea on first Sunday in Funairi, October for the west ocean on first Saturday and Sunday in genshisaisho, October on last Saturday and Sunday in September.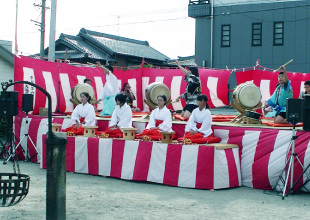 Kagura drum
We shoot tack to noh dance pleasure boat and drum and drums with its heads attached to the cylinder with cords are piled up and they swat this in turn and play. Drum strongly as possible sets up leather, and what let high-pitched tone such as metallic sound sound with thin drumstick features.
We shift drumstick of bamboo of drum of noh dance to Tylorrhynchus heterochetus of tree, and there is area handing down kagura drum shown on front shrine and the stage. Because we swat while turning drumstick, and throwing, it is said to be music drum or frantic drumming drum. In Kanie-cho, Sunari drums and fifes preservation society, kagura drum preservation society for the west ocean, eastern sea style kagura drum preservation society work on tradition flourishingly, and, other than Sunari festival and autumn festival, even attractions of special event play an active part.